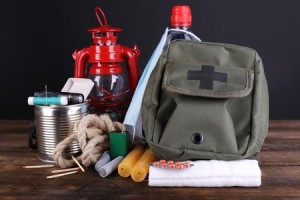 Emergencies can often happen without warning, and every family should take care to develop an overall emergency response plan. However, a key element of a family's ability to respond to an unexpected emergency is the emergency preparedness kit they develop ahead of time.
An emergency preparedness kit, or disaster supply kit, is a collection of basic supplies necessary to sustain you and your loved ones when a disaster strikes. We live in a world where we are accustomed to convenience and instant gratification, but in the event of an earthquake, fire, tsunami, or myriad of other potential scenarios, you wouldn't have the time to swing by the store for water and food. In the event of a true disaster, there is a very real possibility that it would take days for relief efforts to reach you.
A Basic Emergency Preparedness Kit
According to Ready.gov, your emergency kit should contain the food, water, and basic necessities you would need for three days, including:
Water - one gallon of water per person per day for at least three days
Food - at least a three-day supply of non-perishable food
Battery-powered or hand crank radio and a NOAA Weather Radio with tone alert
Flashlight
Extra batteries for radios and flashlights
First aid kit
Whistle to signal for help
Dust mask to help filter contaminated air
Plastic sheeting and duct tape in case you need to build a temporary shelter
Moist towelettes, garbage bags, and plastic ties for personal sanitation
Wrench or pliers to turn off utilities
Manual can opener for food
Local maps
Cell phone with chargers, inverter, or solar charger
Additional Emergency Supplies to Consider
In addition to the basic supplies in your emergency kit, it's important to consider items that are unique to your family. This may include:
Medications – a 7-day supply
Extra prescription eyeglasses or contact lenses
Baby diapers and formula
Denture needs
Pet food and extra water
Cash – small bills as it may be difficult to find change
Important family documents – insurance policies, deeds, bank account information, and identification stored in a waterproof, portable container
Sleeping bags or blankets
Change of clothing and comfortable shoes
Feminine hygiene products
Your Emergency Response Partners
At Premier Aquatic Services, we understand the importance of ensuring your family's safety. Whether it's providing CPR education for your family or keeping our community safe with lessons from The Safer 3 Water Safety Foundation, our team is committed to your wellbeing.
For a full look at our Health and Safety Classes or to enroll in spring swim lessons, visit us online at www.swimoc.com.