Southern California is lucky enough to experience beach-day weather year-round, with 75˚ temperatures and sunny skies. With thousands of beachgoers visiting all year long, California's beach lifeguards have a huge responsibility for the safety of those in and around the water. Beach lifeguards have to be prepared, experienced, and ready-to-go at all times. Think you've got what it takes? Use these steps as a guide to learn how to become a beach lifeguard.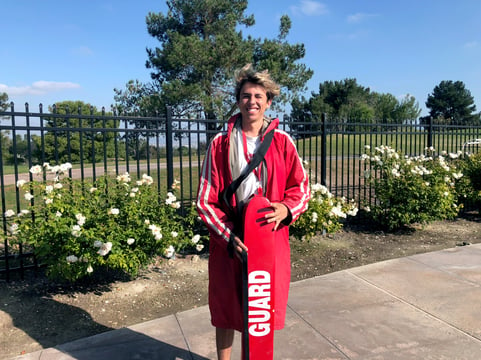 1. Start by gaining experience in the water.
Swimming is different than any other type of exercise or sport – you may be able to run 10 miles a day but would struggle swimming 10 laps in the pool! Swimming is all about endurance, which is why beach lifeguards need to be the fittest of the fit for their own safety and for the safety of others. To be a beach lifeguard, practice swimming in the ocean every day to build your stamina and remember that swimming in the ocean takes a lot more strength than swimming in a pool.
2. Obtain a CPR certification.
Practice your CPR, AED, and First Aid skills by taking an accredited certification course through the American Red Cross or the American Heart Association. Becoming a pro at these skills is one of the most important parts of being a beach lifeguard and the more simulated practice you can get, the better. CPR stands for cardiopulmonary resuscitation and is a life-saving technique used when someone goes into cardiac arrest (the heart stops beating completely). Using CPR in combination with an AED, or automated external defibrillator, nearly doubles the victim's chance of survival.
3. Pass the beach lifeguard
tryout
test.
Whether you want to be a city, county, or state beach lifeguard, you'll have to successfully complete the official tryout test – which can be a very daunting task. Make sure you've practiced your skills and stayed in shape in preparation for the big test. Tasks that must be completed during the tryout may include:
500m swim

¼ mile run

A written test
Every city and county are different, so be sure to check out the requirements for the beach you want to apply to!
4. Pass a background check
and physical exam
.
Almost every location will require a thorough background check of all its applicants, so be prepared! Many beaches will also require its applicants to schedule a detailed physical exam. This physical will include testing for vision, hearing, strength, flexibility, and general fitness.
5. Complete training and become a beach lifeguard.
Once all of the above steps have been completed successfully, you're ready to start training to become a beach lifeguard! Training usually consists of shadowing veteran lifeguards, getting to know the beaches you'll be working at, gaining a full understanding of the currents and weather conditions of the ocean, and practicing your life-saving skills.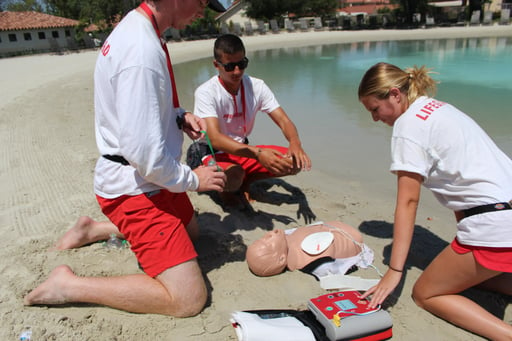 There is a long, difficult road to becoming a beach lifeguard, but reaching the goal is well worth it and the job is highly rewarding. Be sure to check the official requirements to become a lifeguard at your local beach, as each beach may be different.