You are with your adorable family playing at the pool on a hot summer day, finally having a moment of peace from mom life. You are having a good time until the unthinkable happens and your 2-year-old has an accident (and not the small kind)! What was a blissful day has now turned hectic with cleaning, tantrums, and shutting down the pool. Now accidents happen, but you never want to be the joy killer or the person putting others at risk. This is where the importance of swim diapers comes in and covering the best ones to wear so you can keep some peace of mind.
Swim diapers are important even for toddlers who are potty trained. I know that for a lot of moms, we stress getting our children potty trained and never want to regress on the work we have made. For most pools they will require a reusable diaper and a disposable diaper, regardless if a toddler is potty trained or not. The reason is because accidents happen and for most kids they are in the moment of having fun and they do not want to leave the fun to use the bathroom.
What else should I do? It's always better to be safe than sorry, and I recommend that you do a potty check every 45 minutes. This will also allow you and the whole family go to the bathroom, take some time to eat a snack, and rest a bit, especially if you plan on being at the pool all day. If you are at a pool that does safety breaks, I recommend you time your bathroom breaks at the same time. I cannot tell you how many times a mom has come up to me and told me that while they went on their bathroom break, they checked the diaper and found a lovely surprise. The reason pools require you to wear a reusable diaper is because it's been proven to hold in the surprise and avoid bacterial leakage into the pool. Did you know that bacteria found in poop can live in chorine for hours? The Health Department supports reusable diapers and proves them to keep the pool safe and open.
What swim diapers should you buy? You will want to buy a reusable diaper that's higher in quality and durable fabric. I would avoid using the plastic diapers simply because they do not fit properly, they are uncomfortable and they do not do the best job keeping accidents in. What you are looking for are reusable diapers that look like this.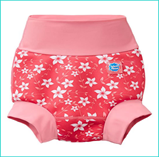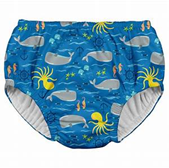 While shopping you will want to look for:
100% polyester, Neoprene, Nylon mesh or 100% cotton
100% polyester lining, Nylon lining
Machine wash or hand wash
Elastic waistband
Try to purchase your diaper by the weight of your baby. Also, make sure it's not too loose because it defeats the purpose and will not be leak proof. On the contrary, if it's too tight your child will be uncomfortable. This is why you want to stick with the stretching fabrics, elastic waistbands, or adjustable straps. Now I know what you're thinking, "how much is this going to cost me?" Remember the reusable swim diapers should last for a season and if you are going to the pool frequently, you will be saving money by buying a $15-$25 diaper and avoiding a $500+ pool cleaning fee!
Now that you are an expert in swim diapers and preventing accidents at the pool, come visit us at the Aliso Viejo Aquatic Center, where we offer many different swim programs, recreational swimming, and more!