Young children always have the most energy in the room, they love to be constantly moving and grooving, always looking for something new to entertain them. Part of a parent's job is to find activities that can help structure this energy- things that are both beneficial and enjoyable for their child - and swimming lessons fit that description perfectly! Here's a few reasons why starting to swim in those early developmental years can be greatly beneficial: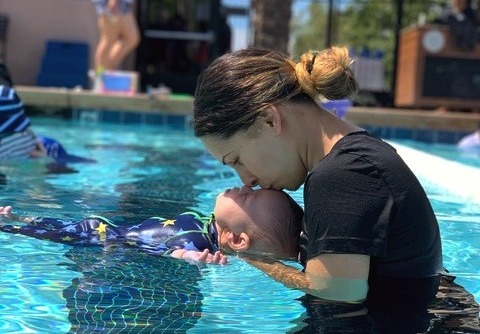 As kids grow older and take on more after-school activities, parents often become swamped with driving around, getting them to sports games and practices. The craziness is worth it though, for the countless benefits after-school activities have; one of the greatest motivations is the relationships their child makes with their teammates.
For parents of younger kids, who may not be old enough to participate in team sports, what's the best thing to do? Swim lessons! Learning to swim with others of similar ages opens up the opportunity to create friendships and enjoy time with friends in those early developmental years. This can give them confidence in making friends in the future and allow their social skills to start developing.
They'll Be Ready for School
The very first day of school is an exciting event for a little one and as a parent, getting them ready for what happens on that first day is extremely important. Many kids of this age won't have the focus to sit down and start learning about the classroom setting from you, so, the question is, what's a fun and beneficial way to channel their energy to get kids ready for school? According to a study done by Griffith University in Australia, swimming lessons are the best fit.
Toddlers in swim lessons are exposed to the idea of making friends, as mentioned before, but are also taught valuable skills they need to succeed in school. Kids' swimming lessons are normally set up as a lesson at school would be - this familiarizes them with the structure of the classroom, and teaches them how to focus attention on one subject for a period of time. Studies also show that kids who begin swimming lessons at a young age have a greater understanding of listening and following directions, and show visual motor skills and cognitive skills earlier than normal.
In a world where technology rules, and our eyes spend most of the time locked on screens, putting an emphasis on daily exercise is important (especially in children). It is essential for kids to be outside playing each day to aid in their growth; that valuable time outside is crucial for the development of children.
Swimming lessons are a great way to develop this habit of being outside - pairing fun and exercise together can teach them that being active is a fun thing to do. Getting your child used to being outside at a young age can greatly benefit their future health habits.
Curious about the exact age to start? It is recommended by the American Academy of Pediatrics to start structured lessons around age 4, but to get the little ones into the pool and familiar with the water as early as age 1. Check out our swim lesson options - which range from Parent & Me to swim teams - to see where your child will fit best.