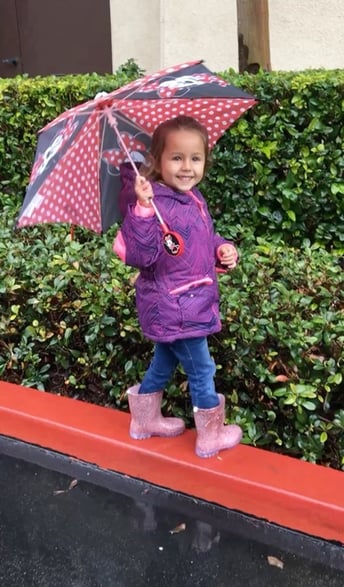 Don't let a gloomy day rain on your parade! I appreciate a good excuse to stay in-doors, but I try to make the best out of rainy days. We all know how much toddlers love being outdoors, running around, and exploring new environments! Let's face it, I want to do whatever exhausts the kids the fastest and guarantees a solid nap too. In my opinion, nothing does this better than some fresh air and outdoor play. With heavy rain and cold weather just around the corner, going outside isn't always an option. In this blog, I will share some rainy-day play ideas that, over the years, have helped me pass time when I felt cooped up.
Stay-at-Home Scavenger Hunt
Who doesn't love an old-fashioned scavenger hunt? I know I do! A day spent inside doesn't have to be mundane. What I like most about a scavenger hunt, is you can take a break in-between snack time and cuddles. Toddlers like to pretty much snack all day, so this is a great game to pass the time without a whole lot of structure. For more scavenger hunt ideas, check out this article from Good Housekeeping. While browsing the Good Housekeeping website, I also stumbled across these printable worksheets-There are several activities for children ages Pre-K through 6th grade.
Build A Fort
Forts! Forts! Forts! This is my all-time favorite activity to do with my daughter. It also gives me an opportunity to be imaginative and creative too. A fort creates the perfect space for a fort-picnic, tea party, and story time! Usually, building a fort eats up a few hours of the day too. For more fort inspiration, check out this Fort Blog from Red Tricycle.
Lego's & Playdoh
In my opinion, there are some toys that should be stashed away and saved for a rainy day. Legos and playdoh are two of them! I love to get creative with both of these items, and I usually find myself enjoying this activity too (which is always a bonus)! Check out Pinterest for more Lego and playdoh activities!
Puddle Jumping
Let the kids, be kids!! Watch this cute I'm a Dity Dinosaur story time video. If the rain settles down (or doesn't), go look for some puddles. Obviously, wearing rain boots, a rain jacket and having an umbrella is half the fun! For obvious reason, this is an activity I recommend right before dinner time.
Bath-Time Swim Lesson
From scavenger hunts, to fort building, to Legos and playdoh, to puddle jumping, bath-time is the best way to wind down for the evening. A nice, warm, extended bath-time is perfect especially after playing outside in the rain. A bath is typically fun, but if you have extra time try to incorporate a bath-time swim lesson. Practicing breath control, blowing bubbles and splashing within the comfort of the child's home is a great way to practice. Children feel more comfortable in familiar surroundings and are more likely to step outside their comfort zone. Here at Premier Aquatics , we encourage any play time that allows children to practice their water safety skills and swimming techniques.
I hope your next rainy-day is anything but boring!